Highly rated and gently priced cigars from JC Newman, specifically the BrickHouse line is now available for purchase in Thailand through their only and exclusive distributor for Thailand, Cigar Emperor.
Cigar Emperor is the leading distributor of cigars and accessories in Thailand, bar none, we are the best and most comprehensive stockist of world-famous cigar brands.
Our cigar sommeliers have more than 20 years of experience smoking cigars made in all cigar producing countries in the world,; their level of expertise is unmatched in Thailand.
With friendly staff that genuinely care about your experience, you can trust Cigar Emperor to satisfy all your cigar cravings and desires.
These are the lines currently available with more to come:
Brick House Maduro
Brick House Maduro is rolled with the same highly-acclaimed Brick House filler blend and finished with a Brazilian Arapiraca wrapper. Darker and spicier than the original Brick House, Brick House Maduro offers a full-bodied flavor balanced with rich hints of sweetness.
Brick House Double Connecticut
Brick House Double Connecticut is rolled with the same highly-acclaimed Brick House filler blend with a genuine Connecticut Shade wrapper and Connecticut Broadleaf binder.
Fewer and fewer cigars are being made with genuine Connecticut wrapper because many cigar manufacturers have found it to be more profitable to take Connecticut seeds and plant them elsewhere, like Ecuador or Honduras. J.C. Newman takes the use of genuine Connecticut tobacco by using it both in the wrapper and binder.
The result of this combination is a very spicy and peppery rich flavor- one not only unlike regular Brick House- but one unlike any other cigar on the market today.
Using both Connecticut Shade wrapper and Connecticut Broadleaf Binder is what makes this new Brick House Double Connecticut such a truly unusual and unique cigar.
Taken from the JC Newman website
J.C. Newman launched Brick House; a true Cuban puro cigar made with the finest Havana tobaccos. To honor his family and heritage, J.C. modeled the Brick House label after his childhood home – the only brick house in their small, Hungarian village.

Locals and visitors would gather at the house nightly to eat, drink, smoke and enjoy each other's company. But with the Great Depression came the end of the Brick House.

Over 80 years later, grandsons Eric and Bobby Newman relaunched Brick House using the most exquisite Nicaraguan tobaccos.

Wrapped in a hearty Havana Subido™ leaf, every cigar features a rich blend of Nicaraguan tobaccos carefully hand-rolled by master artisans. Aged in the mountains of Nicaragua, every Brick House cigar is a melding of flawless construction, superb quality and master blend.
An overnight sensation, the Brick House brand has become one of the most talked about cigars on the internet and a best seller nationwide. Awards include the Best Bargain Cigar and a place in the Top 25 Cigars by Cigar Aficionado in addition to numerous blog and website awards.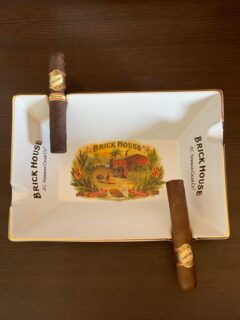 For the complete list of our cigars available in Thailand click here.